// MECVEL TECHNOLOGIES GROUP
Who we are &
what we can do
With a deep knowledge in designing and manufacturing customizable electric linear actuators and screw jacks, and a solid network of important companies producing from gear boxes to electric motors and electronic drives, MecVel Technologies can be the starting point to automate industrial applications requiring motion transmission systems.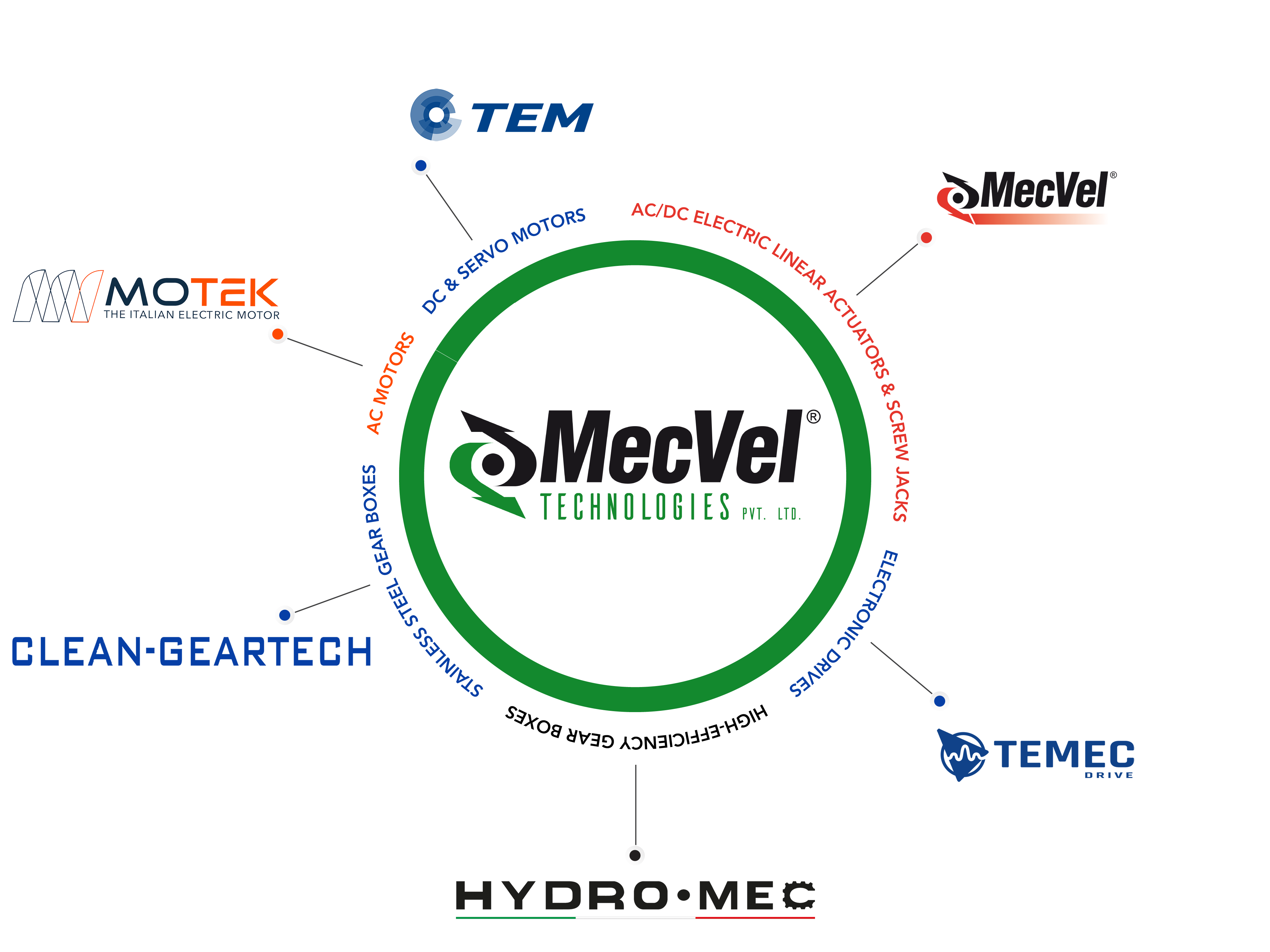 // about us
MecVel Technologies: the beating heart of motion transmission systems
MecVel Technologies Private Limited has been officially founded in New Delhi in 2017 as Indian head office of MecVel Srl, Italian manufacturing company in the linear automation industry since 1987. This landmark was born to be the point of reference for local customers for both technical and sales assistance, and starting point for the expansion in Asia. Year after year, the company has grown up to consolidate its position in the market and become an independent company even from the production point of view, with a new plant located in Pune. This also thanks to a network of partners and strategic commercial relationships developed with the purpose to offer a range of products as complete as performing, at the service of the automation industry.
The core business of MecVel Technologies in fact is the manufacturing of linear actuators and screw jacks, electromechanical devices able to push, pull, lift or position any load up to 20 tons. This series is completed by a wide range of electric motors, gear boxes and electronic drives that MecVel Technologies distributes to provide complete solutions.
In addition, the customization service of the company allows to configure each product according to the technical specifications of the application to which it is intended (mainly in terms of force, speed, stroke and power supply), offering a tailored project able to reach the performance required by the customer.
Moreover, the use of the electric system ensures a lot of benefits if compared to hydraulic or pneumatic ones, as the possibility to get the power only when required, providing a particularly effective and precise control. An electrically powered technology doesn't need pumps, valves and pipes and this means that it can work in almost any environment as it is completely eco-sustainable, with no impact in terms of pollution or contamination due to oil leaks.
These are just some of the industrial fields supplied by this wide range of technologies: agriculture and breeding, AGVs, defence, food & beverage, heavy industry, renewable energies (wind, photovoltaic, hydroelectric), medical and pharmaceutical industries, railway and naval industries, packaging, plastic processing, recycling, stage systems and tissue industry.
MecVel Technologies aim is to be a constant support for its customers in any phase of development of their projects, allowing to automate and optimize the duty cycle and increase the productivity through devices characterized by efficiency, flexibility, reliability and high quality.
of products are electric and
eco-friendly
of products are customized
of experience and know-how
of direct presence in the market
located in New Delhi and Pune
of products fully manufactured by mecvel technologies
distributed by mecvel technologies to provide complete solutions